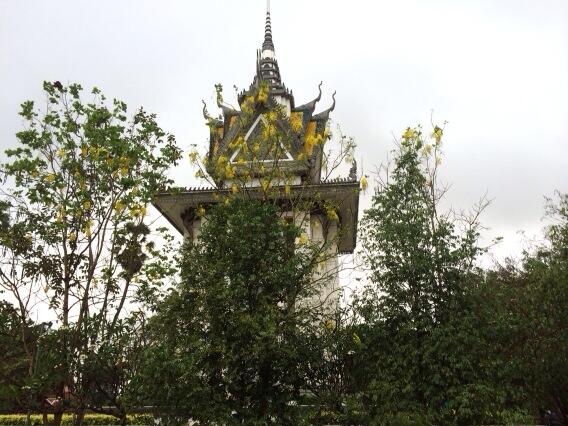 Stupa in the Killing Fields, commemorating the victims of the Khymer Rouge
 We wandered around the "Killing Fields" today, where thousands of the  3 million Cambodians who perished (out of a population of 8 million) were clubbed, hacked, or axed to death by the minions of Pol Pot, leader of the murderous Khmer Rouge
 Pol Pot apparently was a sweet child, and then a brilliant student, sent to Paris by the Cambodian government on a doctoral scholarship. (Most of the Khymer Rouge leaders, incidentally, were intelligent and highly educated, mainly in Paris).
 Pol Pot's barbarity started with an idea. That the simple agrarian society he had stumbled upon on Cambodia's borders was the very best society. 
 Sadly, his personality was dangerous. On the DISC personality assessment, he would score as DI, dominant and influential. And so instead of living a peaceful agrarian life himself, and buying farms, and inviting people to live and toil on them, he enforced his idea on society, forcing the entire population of Pnomh-Penh and other cities into the countryside, where they toiled for 12-14 hours  a day in forced labour in rice paddies, etc.
 The Pol Pot regime was control in the extreme. What does control stem from? From wanting your own way. From thinking you know best and wanting everyone to do what you want them to do.
 But of course, everyone wants their own way, and so control will never be complete. Everyone has at least a residue of stubborn autonomy which cannot be snuffed out, and which leads oppressors to suspect, rightly, that their control is not complete. And leads to increasingly cruel, fearful and desperate attempts to control.
 So Pol Pot, instead of trusting the power of his idea, used greater and greater barbarity to force society to accept it, killing intellectuals and the educated, those who knew a foreign language, those who wore glasses, doctors, professors, and eventually, in growing paranoia, loyal members of his own Khymer Rouge.
 It was eugenics in reverse, a single-handed attempt to lower the IQ of a nation, murdering the educated and cultured, and I would expect that 35 years later Cambodia is still suffering from the effects of having her entire intelligentsia murdered.
 Nations and human history, however, tends towards equilibrium and balance. Great evil has within itself the seeds of its own extinction. Pol Pot was overthrown to great rejoicing within 4 years, just as the extreme evil of Hitler and Stalin reduced the shelf-life of their regimes.
Peaceful agrarian scene, just outside the Killing Fields.
 I walked through the killing fields, in which now birds sing, trees flower, hens march outside followed their chicks, and skinny cows graze.
 Cambodia was an agrarian society, and Pol Pot could have enjoyed it peacefully and privately , without three years of stress for his people and himself–for like all dictators he grew increasingly paranoid as he realized that absolute control was impossible,  suspecting everyone, friend and crony alike, killing people on suspicions, and dubious information extracted over months of torture.
 Was it just Pol Pot? Nope, I think every parent, every lover, every friend, every church leader, or small group leader has in themselves a urge to control things. I've been meditating on control after hearing  an acquaintance, a "good" and respected Christian woman say that her greatest weakness was that she wanted to control everything, her family, her work, her church, her small group and that this was the greatest source of stress in her life.
 Like her, I would really like to have things go the way I think they should go, and want them to go. I resolved then to give up this silliness, to persuade but not control, to go with the flow in relatively unimportant things, instead of directing the flow. And if people don't behave the way I want them to, or think they should– to "control" them, in the only way God has left open to us, by the immense force of prayer, which as Paul Miller repeatedly points out in his book The Praying Life, does change people but with the invisible force of the spirit.
 * * *
 I chatted to our tour guide at the Genocide Museum, an intelligent man who was made to work in the rice paddies, essentially as a slave, on a ration of two bowls of rice a day, sometimes more gruel than rice. Pol Pot viewed his people as expendable, since he thought he needed only 2 million out of the 8 million to run his communist society. Those who died from overwork and malnutrition died. The rice they produced he exported.
 Obviously, having to live and work in community—the same food, the same clothes, all colour banned, with the fruits of your toil going elsewhere was not a trust-inspiring taste of community for the people of Cambodia. Tearfund's Umoja process in healing in encouraging to work in community.
 * * *
 Cambodia's Christians don't lack for uncoordinated help from well-meaning Western Christians. I saw concrete pigpens and water butts in a Tearfund Project today, donated by Samaritan's Purse.
 Heck, who wouldn't be tempted by a hand-out? There is something magical about something for nothing; it has the whiff of grace about it; it would sure tempt me. 
 But as I've mentioned in his blog, one of the turning points of my life was when I fell in love with a house I could not afford (in which I now live). Roy hopefully suggested to his mother who has inherited wealth from her husband's family and her own that she help us buy it, since she has bought houses for his brother David, and Jeph Mathias, who, consequently, no longer needs to work.
 She refused. Providentially. So we bought the house with a crazy mortgage, almost 7 times his salary and I started a business. I gained confidence. I changed my self-definition. I thought I was not detail-oriented. Heck, I was wrong. I could be obsessively detail-oriented when I needed to be. I thought I was no good with money. Nope, if I prayed for guidance and God's ideas, I discovered I could be brilliant with money.    
 I learnt dozens of things I did not know—including working in a team and biting my lip often, and  how to plan something step by step from concept to execution, to plan with enough detail that you intuitively know it is going to work because your detailed step by step plan is concrete, credible and practical.
 That has helped me in other areas of my life, my blog, for instance.
 * * *
The worst thing about poverty is hopelessness. At a meeting at ICC (International Cooperation for Cambodia) they described Tearfund's Umoja process (which encourages communities to dream about what they want to see, to set aside a small sum of money every week into a savings and loan program, and to use some of that money in  micro-entrepreneurial enterprises).
 At the first meeting, they ask, "What resources do you have?" The people say, "We do not have any resources. We are poor." But they realize they have unused land around their houses in which they can grow things in containers. They have enough to buy a laying hen or two. They can buy a community pig. Put fish in a pond. Dig a well. Pool together for a water butt for the hot, dry season (i.e. now!)
 The self-definition—that we are poor, and so we need help is self-limiting. One you define yourself as a poor person (or a fat person with a bad metabolism, or someone not techie, or not smart enough to learn X, or do Y well, you have limited yourself. It's a self-fulfilling prophecy). A pervasive hopelessness spreads.  
 Hand-outs don't work permanently (except in disaster relief, where they make the difference between death from starvation or thirst and life). They are like putting a finger in a dyke, which sooner or later will burst. Once you have spent your hand-out, you will need another. And another.
 What changes people is ideas, not dollars. The idea that they DO have resources—physical strength, optimism, a bit of land around their houses, the ability to keep chickens, and to pool money and work together on a community garden, a piggery, a fishery.
 Tearfund is helping train people in new agricultural and animal husbandry techniques, and in starting small businesses like sewing shops.
 A donation of £3 a month will pay for a family to go through Umoja, Swahili for togetherness, the Church and Community Mobilization programme.
 Would you care to donate here by direct debit, please.
 Alternatively, text HOPE TODAY to 70444 to give £3 a month to See For Yourself, Tearfund.  It will be added to your mobile phone bill. Tearfund receives 100% of the money. This subscription service will cost £3.00 per month until you send STOP to 70080. 
If you'd like to sign up to support Tearfund's work in Cambodia through either of these links, I'd like to send you a beautifully formatted PDF version of one of my books
Wandering Between Two Worlds—a series of memoiristic essays on my life and faith journey
The Meek Inherit the Earth—a meditation on that Beatitude
The Church That Had Too Much—a recording of a vivid dream.
 Just leave me a comment saying you have done so, and  send me your email address at anitaATanitamathias.com. Thank you