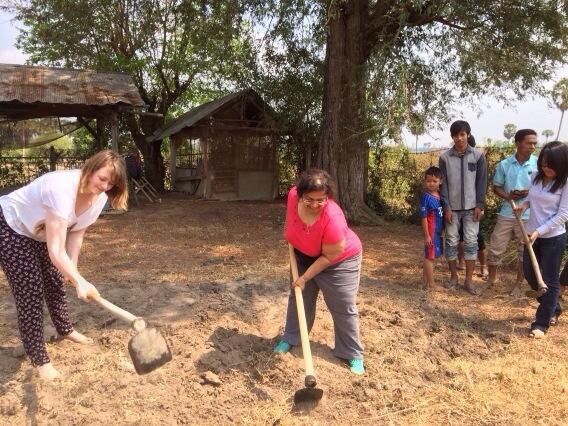 In which I help dig a field for a community project
When I am stressed, I go into scarcity mode. I just want to survive. I just want people to help me survive. I withdraw into my hard tortoise shell and want to stay there till the storm has passed, occasionally sticking out my head to say, "Help."
 This is, of course, the antithesis of the way Jesus wants his Christians to live. He wants us to live with faith, because we truly do have have access to an immense power source, the Vine, the Holy Spirit. He wants me to live with faith because His eye is on the sparrow, the lily and me. He wants me to live with faith because all things are his, and I am his, and I can find all needful things in him.
I am having a very interesting, relaxed, happy time in Cambodia. However, it is a bit challenging physically—the heat, the residual jet lag, slight culture shock, the late nights blogging, up to midnight sometimes, and the early morning starts. 6.30 a.m. breakfast anyone?
I occasionally go into survival mode when tiredness creeps up on me. Oh Jesus, just get me through today. Oh Jesus, I just don't have the energy to get out of the van and meet another lovely Cambodian. Please help me. Oh Jesus, I am barely awake; wake me up.
And then I remember: I don't live in a world of scarcity, of just getting through challenge, but in a world of abundance. Of the Holy Spirit, who comes on request, and will give me all good things—love, joy, peace, patience, kindness. And I close my eyes, and pray, "Come Holy Spirit," and slowly, mysteriously, magically, I am refilled—just enough–from God's infinite wells of energy and joy and kindness and bounce.
Oh, we have an abundant God, and we live in an abundant universe, and never let me forget it and settle for merely surviving.
* * *
Cambodia has a per capita income of 78 USD a month, and is one of the world's poorest countries, according to World Bank data.
And yet what strikes me is the abundance everywhere. Trees full of green mangoes. Jackfruits, bananas, gooseberries, green coconuts, and rambutan growing everywhere, even in the dry season. The giant lakes Tonle Sap and Tonle Batie full of fish and crabs. The soil so fertile that fallen papaya seeds root. Abundant young people everywhere, full of energy and optimism (and giggles). The sweet smiley spirit of the people.
* * *
Just before leaving for Cambodia, Roy and I signed up to run a half-marathon on September 28th   2014 to raise money for our favourite Christian charity working in the Third World. Now, I have been trying to lose weight for 17 months, and have only shed 18 pounds. Loads more to go! Literally. The extra weight I am carrying gives my legs the strength of someone in their seventies or eighties, according to Roy's running book. Believe me, I believe it!
So I sign up, then ask my friend, David, "Tell me, am I crazy?" And David said, "You would be crazy if you didn't do something. If you just accepted being overweight. You must now change the way you think of yourself. You must think of yourself as a girl who runs half-marathons. The day I quit smoking, I began thinking of myself as a non-smoker." I am trying, believe me, I am trying.
* * *
 The Umoja Project Tearfund's development model begins by asking people what their dreams and resources are. The villagers frequently say they have no resources. But in meeting numerous church members and facilitators over the last few days, we discovered a different picture slowly emerges.
They realise what they do have. They change their self-definition. Yiv Toch who knew how to raise chickens taught the others. Other group members had unused land. They pooled small amounts together to buy seeds for a community vegetable garden, and poultry to share. Those with a bit of English teach the smaller fry.
We spent a day in Pastor Te Pich's church, and even dug in a field. The earth was more fertile and easier to dig than Oxford's clayey soil, but I must admit I am no better at agriculture and hard labour in Cambodia than I am in Oxford! What struck me was the unsimulated joyousness as everyone, men, women and children, dug together in a field, and the field was dug in half an hour. It would have taken Roy hours! And then we ate Cambodian snacks, and played Cambodian games, and all the foreigners lost!!
Tearfund's Village Integrated Development Project or Umoja is training facilitators to encourage communities to come together to pool money together so that they can borrow from the group in emergencies at 3% rather than from money-lenders at 120%!  This savings and loan group also provides seed money for the community pig, for instance, a source of
much affection and interest to everyone, and for chickens and ducks.
The unused land around the church is intensively planted as a community garden, even children digging around the tomato and chilli plants. The savings group provides the "seed money" for the seeds.
The resources for change come from the community itself, thus rescuing them form the vicious circle of hand-outs and foreign aid, which crush pride, self-respect, self-reliance and creativity.
Cambodia is a country of abundance—fertile soil, beneficent climate, optimistic sweet-spirited people. It is also a country with great corruption at the governmental level, one of the most corrupt countries in the world.
It is even more important then that people develop self-sufficiency and their own parallel non-taxable economies– vegetables, chickens, piggeries, fruit trees, private free schools, so that they survive and, God willing, thrive while their forests are despoiled, their gems and hardwood and minerals shipped away, and their land appropriated by powerful, mighty corporations.
Please help Tearfund help Cambodia's people develop self-sufficiency.
I have just written my first book of fiction, Francesco—Artist of Florence: The Man who Gave Too Much. It is a children's story, a lavishly illustrated tale of a Florentine Renaissance artist. Here are some comments from friends who read it,
Simon Cutmore— it is a gem of a book and a beautiful parable and I think could be read by you and old alike.
Jules Middleton—  I love the story! I wanted to read  more! I love the history of Art connections.
Joanna Mitchell— I thought it was lovely – sweet and true and good — – and a bit like one of Francesco's jewels.
I would like to give it to you as a gift if you give £3 to Tearfund   here by direct debit.
Alternatively, text HOPE TODAY to 70444 to give £3 a month to See For Yourself, Tearfund.  It will be added to your mobile phone bill. Tearfund receives 100% of the money. This subscription service will cost £3.00 per month until you send STOP to 70080.
Just leave me a comment saying you have done so, and  send me your email address at anitaATanitamathias.com and I will email you an e-copy of my newest baby 🙂