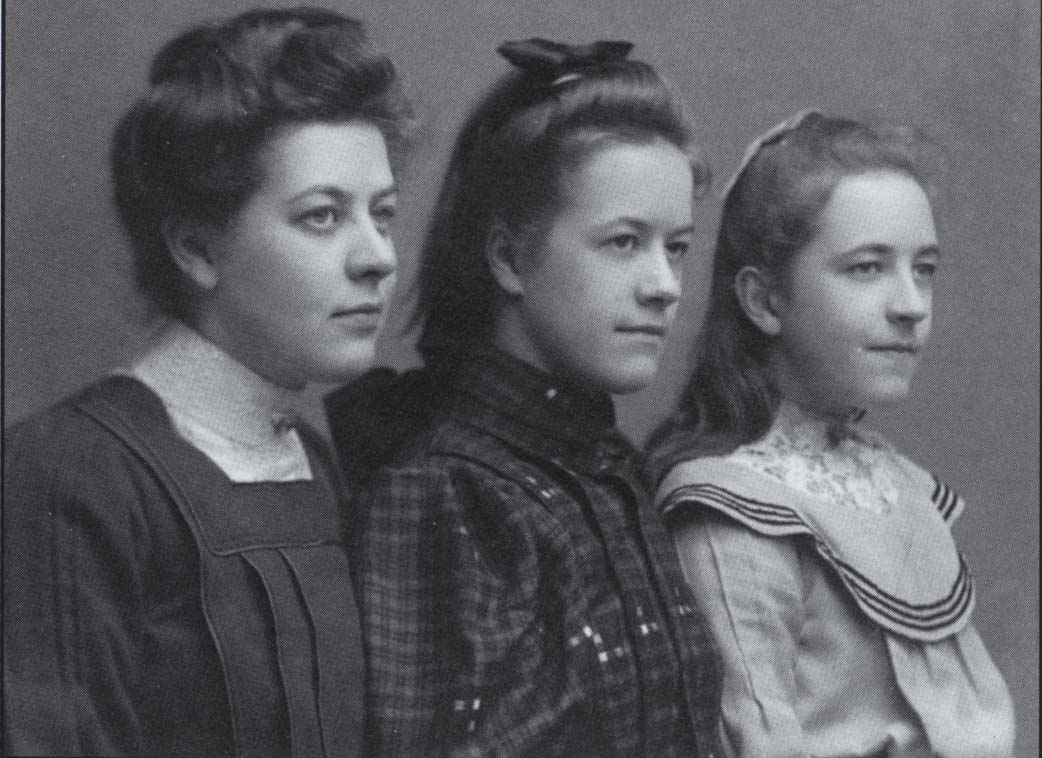 Betsie, Corrie and Nollie Ten Boom : The Righteous Among the Nations
Praise the Lord anyway, because he is creative. He can create diamonds out of mud, coal, rock and the bones of dead creatures. Brute facts are just inert materials in his hands, and from this unpromising argon, krypton, xenon, he can bring forth goodness and beauty.
* * *
I first encountered the idea of praising the Lord for everything as a teenager in India, in Merlin Carothers' Prison to Praise.
 And for a while, I praised God for things that worked beautifully, and things that, apparently, did not. I had the sunniness and optimism of youth. I want to start living like that again, with thanksgiving in my heart, praising God for everything.
* * *
I have been reading Ann Voskamp's One Thousand Gifts. Its insights and style (distinctive, quirky, poetic and aphoristic, so much so that it sometimes reads like a pastiche of one-liners) may well make it one of the spiritual classics of our century.
Her central insight was "Eucharisteo precedes the miracles."  We give thanks in all things before we see the miracle.
                                                              * * *
I trained myself to praise God for everything as a young Charismatic woman.
When I was 19, I was returning by train from Madras, now Chennai, to Jamshedpur, where my parents then lived, a two day journey. On the morning of my journey, I went shopping in Madras's tantalising second hand book stores, and spent most of my money, and didn't have enough to buy another suitcase, and so impulsively bought a bucket to put the books in. (Please don't laugh. I had tried to become a novice with Mother Teresa, and she refused to let her nuns buy suitcases, which she considered unnecessary and wasteful. They travelled with buckets, which she said were more useful. So that's the inspiration!)
So I scramble into the station, just as the train is leaving, and with my enormous clutter of  luggage, get into the nearest carriage when happens to be third class. The very poorest people, noisy, crowded, and the cleanliness, well…  And I planned to read Vanity Fair over the two day journey, (the book, not the magazine!)
When the ticket collector comes around, I explain, tremulously, that I almost missed the train, so didn't even get to buy a ticket (an offence!) and please could I buy a second class one instead. He sells me one, and I move, bucket, suitcases and all. Settle into a bunk with Vanity Fair. Get hungry. Reach for my wallet. I'd dropped it somewhere between the third class compartment and the second.
Now, this wasn't a through ticket. So I have to get off at Asansol, with my melee of possessions, and not a paise to even make a phonecall.
Cold, clammy, stomach-clenching fear. What am I to do?
Well, I have been training myself to praise the Lord, anyway.
I sit up in my bunk, and say, "Lord, if I leave my stuff here, and try and find that compartment, this may vanish too. And there's no way I am going to get that wallet back. I don't know what to do. Don't know how I am getting home. But I guess we'll figure something out. And anyway, I will praise you."
And I praise him in blind faith. Really do! And fall asleep peacefully!!
I am awakened by a rough shaking at my shoulder.
The ticket collector hands me my wallet!
"Thank you, thank you, thank you," I say, effusively, overwhelmed.
What are the odds of recovering a leather wallet left in a third class compartment in India? Apparently very good!
"You should be careful with your things," he says gruffly and walks away. I look inside. All the cash was there. And I had had a good night's sleep.
And learned a lesson. Praise the Lord, anyway!
* * *
Did the praise, the acceptance, set in motion an avalanche of divine intervention which got me back my wallet and the rupees to get a ticket home? I believe so. Would I have got it if I had not prayed? Perhaps not.
Does it even make sense to praise God when things are going badly? I truly believe so.
* * *
Here is the most famous example of someone practising praise. Corrie Ten Boom in "The Hiding Place," describes praising God in Ravensbruck.
"'Fleas!' I cried. 'Betsie, the place is swarming with them!'
"'Here! And here another one!' I wailed. 'Betsie, how can we live in such a place!'
"'Show us. Show us how.' It was said so matter of factly it took me a second to realize she was praying. More and more the distinction between prayer and the rest of life seemed to be vanishing for Betsie.
"'Corrie!' she said excitedly. 'He's given us the answer! Before we asked, as He always does! In the Bible this morning. Where was it? Read that part again!'
'It was in First Thessalonians,' I said
"'Oh yes:'…"Rejoice always, pray constantly, give thanks in all circumstances; for this is the will of God in Christ Jesus.'"
"'That's it, Corrie! That's His answer. "Give thanks in all circumstances!" That's what we can do. We can start right now to thank God for every single thing about this new barracks!' I stared at her; then around me at the dark, foul-aired room.
"'Such as?' I said.
"'Such as being assigned here together.'
"I bit my lip. 'Oh yes, Lord Jesus!'
"'Such as what you're holding in your hands.' I looked down at the Bible.
"'Yes! Thank You, dear Lord, that there was no inspection when we entered here! Thank You for all these women, here in this room, who will meet You in these pages.'
"'Yes,' said Betsie, 'Thank You for the very crowding here. Since we're packed so close, that many more will hear!' She looked at me expectantly. 'Corrie!' she prodded.
"'Oh, all right. Thank You for the jammed, crammed, stuffed, packed suffocating crowds.'
"'Thank You,' Betsie went on serenely, 'for the fleas and for–'
"The fleas! This was too much. 'Betsie, there's no way even God can make me grateful for a flea.'
"'Give thanks in all circumstances,' she quoted. It doesn't say, 'in pleasant circumstances.' Fleas are part of this place where God has put us.
"And so we stood between tiers of bunks and gave thanks for fleas. But this time I was sure Betsie was wrong."
a small light bulb cast a wan yellow circle on the wall, and here an ever larger group of women gathered.
"They were services like no others, these times in Barracks 28.
"At first Betsie and I called these meetings with great timidity. But as night after night went by and no guard ever came near us, we grew bolder. So many now wanted to join us that we held a second service after evening roll call. There on the Lagerstrasse we were under rigid surveillance, guards in their warm wool capes marching constantly up and down. It was the same in the center room of the barracks: half a dozen guards or camp police always present. Yet in the large dormitory room there was almost no supervision at all. We did not understand it.
"One evening, Betsie was waiting for me . Her eyes were twinkling.
"'You're looking extraordinarily pleased with yourself,' I told her.
"'You know, we've never understood why we had so much freedom in the big room,' she said. 'Well–I've found out.'
"That afternoon, she said, there'd been confusion in her knitting group about sock sizes and they'd asked the supervisor to come and settle it.
"But she wouldn't. She wouldn't step through the door and neither would the guards. And you know why?"
"Betsie could not keep the triumph from her voice: 'Because of the fleas! That's what she said, "That place is crawling with fleas!'"
"My mind rushed back to our first hour in this place. I remembered Betsie's bowed head, remembered her thanks to God for creatures I could see no use for."
* * *
Betsie praised God for the fleas.
But praise did not keep Betsie alive for a Biblical life span. Betsie died in Ravensbruck, at 59 (exhausted by working 11 hour days as a slave labourer for Siemens, "unloading large metal plates from a boxcar and wheeled them in a heavy handcart to a receiving gate") perhaps 32 years earlier than she might have. (Corrie died in 1983, aged 91).
However, death comes to all. Perhaps Betsie, who even in this life had "crossed over," so that, as Corrie says, "More and more the distinction between prayer and the rest of life seemed to be vanishing for Betsie," would not have resented her death three decades too soon had she seen the fruit that came from her death like a grain of wheat. How the inspiration of her story lives, and shall live for hundreds of years, perhaps
Not just the story of fleas which even today encourages us to praise and thank God in blind faith at all times, but even more this truly remarkable story which flowed from her death. Corrie Ten Boom writes in The Hiding Place,
It was at a church service in Munich that I saw the former S.S. man who had stood guard at the shower room door in the processing center at Ravensbruck. 
He was the first of our actual jailers that I had seen since that time.  And suddenly it was all there – the roomful of mocking men, the heaps of clothing, Betsie's pain-blanched face.
He came up to me as the church was emptying, beaming and bowing.  "How grateful I am for your message, Fraulein." he said.  "To think that, as you say, He has washed my sins away!"
His hand was thrust out to shake mine.  And I, who had preached so often to the people in Bloemendaal the need to forgive, kept my hand at my side.
Even as the angry, vengeful thoughts boiled through me, I saw the sin of them.  Jesus Christ had died for this man; was I going to ask for more?  "Lord Jesus, I prayed, forgive me and help me to forgive him."
I tried to smile, I struggled to raise my hand.  I could not.  I felt nothing, not the slightest spark of warmth or charity.  And so again I breathed a silent prayer.  "Jesus, I cannot forgive him.  Give me Your forgiveness."
As I took his hand, the most incredible thing happened.  From my shoulder along my arm and through my hand a current seemed to pass from me to him, while into my heart sprang a love for this stranger that almost overwhelmed me.
And so I discovered that it is not on our forgiveness any more than on our goodness that the world's healing hinges, but on His.  When He tells us to love our enemies, He gives, along with the command, the love itself."