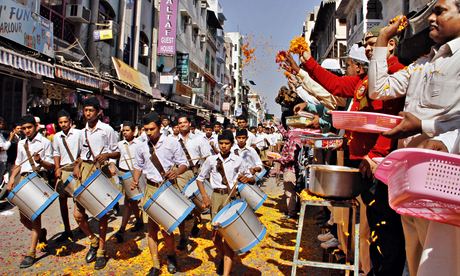 Narendra Modi's supporters, Image: The Guardian.
He wakes at 5 a.m. and does yoga for ninety minutes. He is vegetarian. He lives a simple, almost ascetic life. He has vowed celibacy to concentrate his energies on making India great.
In a country in which corruption is endemic in every area of life, Narendra Modi is "clean," incorruptible.
He is a technocrat, running a well-organised, disciplined government, getting things done.
He has been Chief Minister of Gujarat for 12 years. Without significant natural resources or population hubs like Mumbai or technology hubs like Bangalore, the state has achieved 10% growth annually, India's highest. Its citizens have a higher per capita income than other Indians. Ahmedabad, its capital, is a boom town, high-rises everywhere, companies moving in, three million private cars for six million people, efficient public transportation, dedicated bus lanes…
(Outside Ahmedabad, however, is the insalubrious Juhapura ghetto where the city's garbage is dumped and periodically burnt, and the 400, 000 Muslims who fled there after the 2002 religious massacre live in poverty, in dark, overcrowded surroundings, without sewage or municipal water (for which they are, nevertheless billed).
* * *
A tough, ruthless, feared leader, Modi has the potential to be the strongest leader in the developing world. To make India a superpower to rival and outstrip China. To restore national pride. To develop India's considerable human resources. Who knows, to woo back educated Indians from the diaspora perhaps.
Modi will, I suspect, be a boon to India's economy.
Were I living in India, I would find myself hard-pressed not to vote for him.
But I would resist.
I would not vote for him.
I would vote for Rahul Gandhi, son, grandson, and great-grandson of Indian Prime Ministers, patrician, well-educated (Harvard and Cambridge), and, personally "clean" and incorruptible, I believe.
I would vote for Rahul Gandhi and for Congress, though I believe the more experienced Narendra Modi would be better for the economy.
Because as Chief Minister of Gujarat, Narendra Modi stood by and did nothing while 2000 Muslims were massacred under his watch in 2002, riots his henchmen are widely suspected of fomenting.
Because the sense of pride and belonging to appeals to is Hindu pride, and Hindu identity, not Indian pride and Indian identity.
Because he appeals to the worst, militant elements of the ancient, peaceful, gracious religion of Hinduism.
Because of the destruction of property, burnings, beatings, murder, rape of nuns, and atrocities committed against Catholics and Christians by the some of the violent and militant organizations which form part of the Sangh Parivar, to which his party, the BJP, and his original formative home, the RSS, belong.
Because just as Modi, a polarizing, divisive leader for a vast, increasingly powerful, secular democracy like India, wishes his supporters to vote for what would be best for Hindus, I, a Christian, who belongs to a family and town (Mangalore) converted to Catholicism in the mid-sixteenth century would vote for what is best for Indian Christians and Catholics. (So I must confess my motivation is as communal as the motivations Modi appeals to.)
Though forecasts of the winners in India's elections have a history of being wrong, I fear Modi, the predicted winner, will indeed win.
* * *
 And what should Christians do? Watch the signs of the times very carefully and get out as soon as they can, if they can. Jews under Hitler could not believe that Kristallnacht would occur until it did. Could not believe in the horrors of Auschwitz until too late.
Emigration, however, is difficult and costly: financially, emotionally, psychologically, practically. But there is something simple and practical that we can do.
Pray. Pray for protection from Narendra Modi and the violent religious nationalism he appeals to.
Pray for Narendra Modi. Prayer is the strong weapon of the weak.
Like Gandhi, Narendra Modi is from Gujarat. Like Gandhi, he is vegetarian, ascetic, experiments with celibacy.
Unlike Gandhi, he has had limited or contact with true Christians. Unlike Gandhi, he is quite uninfluenced by the ideals of Christ.
Introduce Narenda Modi to Christ, and His ideals and what a leader he might be.
Prayer. A weak hope. Prayer, the strongest hope we have.
Pray for India, with a population four times the size of America's and twice the size of the E.U.'s. A giant rising from torpor. A nation which will be a world leader in my lifetime, whether we like the direction it's going to take. Or not.
Let us pray that the direction it takes would be one that would make Mahatma Gandhi smile. And even more, make my personal hero, Jesus Christ, smile.