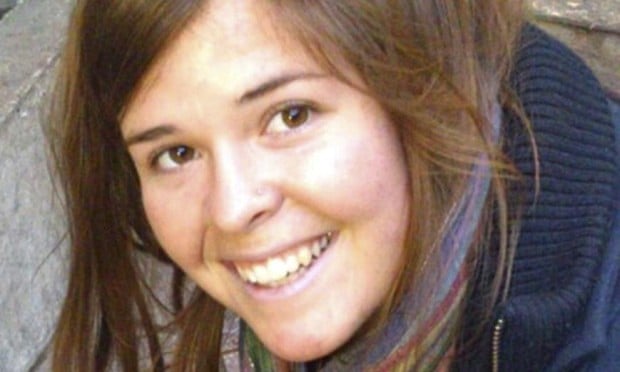 Kayla Mueller, an idealistic young American aid worker, was captured by the brutal soldiers of ISIS in 2013. She died 2 years later, images of her bruised face and white-shrouded body released to her parents.
Her fate would echo most people's categories of the worst thing in the world, as in Orwell's 1984. There are news reports that she was given as a bride to an ISIS fighter.
* * *
 The horror, the horror!–one might say with Conrad's Kurtz in the Heart of Darkness
But that is not how Kayla experienced it.
Here is what she wrote to her family
"I have felt tenderly cradled in freefall. I have been shown in darkness, light. I learned that even in prison, one can be free. In every sense of the word, I have surrendered myself to our Creator."
                                                                                                                                        * * *
 My heart, my spirit, my vivid imagination feels oppressed when I read of starvation, thirst, imprisonment, slavery, torture, Christian Ethiopians imprisoned for their faith in shipping containers, oh Jesus…the substance of nightmares.
But here was Kayla, comforted, tenderly cradled in freefall; shown in darkness, light; learning that even in prison, one can be free, surrendering herself to God in every sense of the word.
"What is essential is invisible to the eye:" Antoine St-Exupery wrote.
* * *
C. S. Lewis's Aslan says that we are only told our own story, not anyone else's.
Because happiness and peace or misery and torment are internal things, and no one can judge another's joy or grief.
I am thinking of the slave Hagar in Genesis who ran away from her bullying mistress, Sarah.
In the desert Hagar saw God. And God saw her. He spoke to her, comforted her, and made her a secret promise. She goes back, apparently defeated. But only apparently. She has had secret spiritual experience Sarah could never have guessed at. She has seen God; He has comforted her; He has promised her descendants a future and a hope. The way Christ looked at Hagar was obviously so monumental an experience that that became her name for God—" Lahai Roi. You are the one who sees me." She is content to return to slavery and abuse because "I have now seen the One who sees me."
This world!! Americans are so oppressed by their stuff that blogs telling them to buy fewer things are hugely popular. Meanwhile, in Africa, people have so little, and get almost nothing for free, that they make multiple uses of free mosquito nets soaked in toxic chemicals to the detriment of their own health and the environment. They suffer the effects of poverty—hunger, disease, early death, lack of access to opportunity.
And yet everyone who returns from Africa or Asia comments on the big smiles of everyone they met.
* * *
 What can be done must be done for the wretched of the earth, in Camus's phrase.
However, as we trust God's love in our afflictions, we must trust God's love in the afflictions of others.
 We do not know their stories as Aslan says; we do not know their secret encounters with God; the way he comforts him; the tenderness with which he looks at them; what he promises them in this life, or beyond.
We do not have as many hands as a peacock has eyes. None of us cannot solve all this cracked world's problems. However, as I type, perhaps the Lord is revealing himself to someone in the misery of solitary confinement. Perhaps he is changing their hearts, changing their perspective. Perhaps he is teaching them that even in prison one can be free, as he taught the former Prime Minster of Ethiopia Tamirat Layne, as he taught Starr Daily, as he taught Kayla Mueller.
Perhaps God comforts them as he comforts me in my darkest moments. Perhaps he is to them as he was to Gerard Manley Hopkins:
Father and fondler of heart Thou has wrung
Hast thy dark descending and most are merciful then,