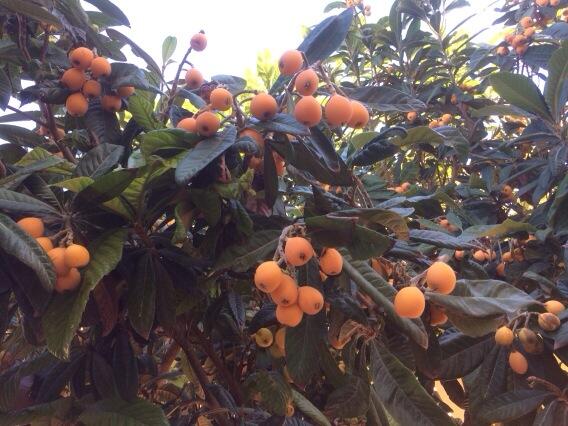 At El Palmeral Retreat Centre, Costa Blanca, Spain, we were invited to help ourselves to fruit from this tree, a cross between an apricot and kiwi fruit (in taste)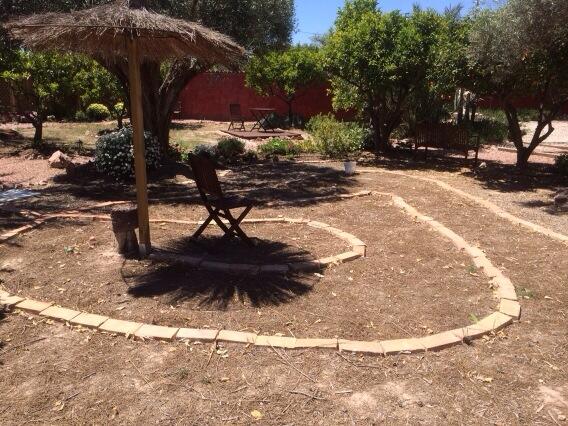 Labyrinth, El Palmeral Retreat Centre, Costa Blanca, Spain
Wednesday 30th April
1 Micha Boyett asks, "Do we really have something worthwhile to say every day?"
Hmm. I believe God does have something worthwhile to say every day.  A. W. Tozer writes,  "God is forever seeking to speak to His creation. The whole Bible supports the idea. God is speaking. Not God spoke, but God is speaking. He is by His nature continuously articulate. He fills the world with His speaking Voice."
And I believe God says something worthwhile to us every day. And perhaps if we listen to him, and "write down the vision and make it plain," we will have something worthwhile to say every day.
Which is not to say that we need to say it!! I aim to blog every second day, or even every third day.
2 I am listening to Galatians as I walk. It takes me half a mile of walking at my puppy's pace to listen to the entire book. I have listened it to in the New Living Translation a few times, in the NIV a few times, and in the Message. The Message is my favourite translation of Galatians. I have listened to it several times, and can't get enough of it. So beautiful.
3 George Monbiot on British subsidies under David Cameron for grouse moors and shotguns for pheasant hunts (£50 for a gun licence, while the background checks cost £196). Iniquitous.
Thursday May 1
1 Meaningless said the preacher, all is meaningless. (Ecclesiastes). Except loving God and finding joy in your work, he concludes.
More and more, as I observe things that people lavish their intensity on, I realise that they are simply inconsequential and meaningless.
And I need to remember that about the things I get intense about. Love God and love your work and find joy in it–there is a lot to be said for the solution of the Preacher of Ecclesiastes!
Friday May 2nd
1 This makes me so upset and angry. The true story of Philomena—how Irish nuns sold children to the highest US bidder, without the knowledge or permission of their parents. (From the Guardian)
2 Cool veggies to grow if you have very little space  I have 1.5 acre, but am amazed at how much can be grown compactly!
3 Bible Study with my small group. Jesus and Nicodemus.
In the Old Testament, Isaiah saw a vision of God, high and lifted up and the train of his robe filled the temple with glory.
Jesus was also high and lifted up–in shame, humiliation and disgrace. As he said, like Moses lifted up the bronze serpent, so he had to be lifted up to give life.
One of the many ironies in the Gospel of John–the meaning of what it is to be high and lifted up is changed. The one who serves is high and lifted up, not necessarily in people's eyes, but in deed and truth.
Jesus was high and lifted up on the cross to bear the punishment for our sins. I believe that, of course.
But was it more? Was he somehow redeeming suffering? Saying it's part of life. A pathway to truth and reality. No one is as real as one in pain.
For long before the Fall, before sin, there was darkness and chaos, and God created darkness as well as sunshine, and pronounced both good.
Saturday May 3rd
1 My trip to Cambodia, and coming back with a virus took a lot out of me. I was feeling tired, intellectually, spiritually, physically and emotionally. It was hard to settle down and get things done. I realized needed to get away. Just an hour after realizing this,  Amy Boucher Pye had a place available massively discounted on her retreat in Spain. I took it.
2 On my way to Costa Blanca, Spain. I have flown out of Heathrow and Gatwick so often now that I have the routine down pat. Check your luggage. Get asked if you have packed any guns, daggers, bombs, petrol canisters. I switch off and default to my smiley good girl persona, so when she shows me a picture of guns, daggers, bombs and asked if I've packed them, with a huge grin, I unthinkingly say "YES."
She stares. Then laughs. "The correct answer is NO," she informs me laughing.  Okay, no then. I don't know if the TSA would be as merciful!
2 Irene used to ask me "Mum, if it turned out I was a cyborg, and you realized you were bringing up a Cyborg all these years, should you still love me?"
 Well, security scanners think I am a cyborg. I have never met one I did not set off. It must be my 3 rings, my dangling earrings, my bangles and necklace. I wear the same inherited jewellery every day and never take it off–or else I would lose it.
An elderly British man is similarly body-searched, I suppose for guns, bombs, daggers and petrol. He sits next to me and says, "They've put us through an ordeal and a half." I am delighted. I haven't heard the phrase "and a half," since I was in boarding school, and assumed it was an Indian expression. Apparently not.
3 Talk about Primitive Methodism and Wesleyan Methodism with a Methodist minister here at the retreat centre I am at, El Palmeral, Costa Blanca, Spain.
4 The landscape of the Costa Blanca. Arid chaparral, with groves of pomegranates and lemons, and herds of sheep. It's a denuded landscape, not much grass to be seen, and that may partly to do with the sheep who, according to George Monbiot cause environmental devastation everywhere by their grazing habits.
Sunday May 4
1 Love the sung liturgy from the Northumbria Community at El Palmeral
2 Funny how I often accentuate words wrongly after 13 years in England! There are five feisty Yorkshire women here, and the talk turned to gardening. I asked them if they knew of Incredible Edible Todmorden, the West Yorkshire town which grows fruit and vegetables in every available bit of land. This is my dream for my own garden, and we will probably gradually achieve some of it, but at the present, my time and energy is going into writing.
Anyway, all of them, keen gardeners, say they have never heard of Todmorden. I frown. Impossible. Describe it, spell it. Oh, they all know it well, but it's pronounced TodMRDN. I said ToddMorden. We thought you were asking about a person, one said. My bad! 🙂
3 I pray first thing in the morning, and my day feels odd if I do not do so. But several people say, the best time to write is early in the morning.