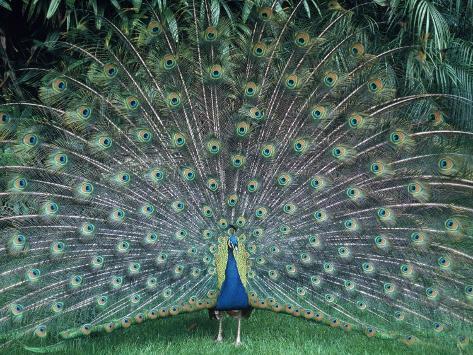 Well, today, January 6th, is the feast of the Epiphany, or the Revelation of Christ to the Gentiles.
Epiphany, epi-to, phainein—show, reveal, manifest. The word used for the moment when a peacock suddenly unfurls his magnificent tail, and we see the full, hitherto hidden glory.
                                                                                         * * *
Be transformed by the renewing of your mind (Romans 12:2)
How has the ongoing process of transformation worked for me?  Grace and Epiphanies.
How exactly I changed, I cannot put my finger on, but I see that I have. I was vengeful, but now I am not. I was easily angered, but now I am not, unless I grow tired and weary. I was judgmental, but now I am not, particularly, unless I grow tired and weary! I wrote off people rapidly, but now I do not do so. And so on.
Some of this change is because of the grace of God, freely given. God's invisible loving radiation working on my soul. I spend an hour a day sitting and basking in God's presence. I sometimes get distracted, sometimes feel bored, sometimes feel as dry and restless as a stick in the wind.
And I sometimes feel strong currents of grace and love and power invade my soul.
Perhaps the change in one's inner being comes from the process of basking in the sun of God's love, which warms this dull brown cold-blooded chameleon, turning her all the known colours of the chameleon–pink, blue, red, orange, green, yellow, turquoise and purple!!
·                                                                                               * * *
But much of the change in me has occurred through epiphanies.
I see something, and I see it clearly, and it changes how I think, feel and act.
Reading Ann Voskamp's
One Thousand Gifts
has been epiphanic. Live in the present, give thanks in everything. This totally changes your attitude and your emotions.
Gosh, after a peaceful two weeks of timeless family serenity, reading, writing, watching movies, hanging out, Roy and I sure didn't feel like going to London. Couldn't get out of it–booked and pre-paid, non-refundable!
I was almost feeling resentful about the hammer-beat of the noise and crowds on a pulse and spirit which had SO slowed down, and then I remembered that I had decided to live in the present, and be thankful in all things.
Thanking God that I would get to see the Pre-Raphaelites and Turner and Constable in Tate Britain; the Impressionists in the Courtauld; butterflies and birds in the Natural History Museum, eat delicious Indian and Middle-Eastern food; and take my girls clothes shopping in the Westfield Center changed my attitude from "Oh, I've planned too much for a 3 week break," to excitement.
And we did have a lovely time. Zoe fell in love with London. We enjoyed the centre on stark winter evenings, seeing almost but not the same views as Wordsworth saw in 1802
Earth has not anything to show more fair:
Dull would he be of soul who could pass by
A sight so touching in its majesty:
This City now doth like a garment wear
The beauty of the morning: silent, bare,
Ships, towers, domes, theatres, and temples lie
Open unto the fields, and to the sky,
All bright and glittering in the smokeless air.Never did sun more beautifully steep
In his first splendour valley, rock, or hill;
Ne'er saw I, never felt, a calm so deep!The river glideth at his own sweet will:
Dear God! the very houses seem asleep;And all that mighty heart is lying still!
                                                                                                 * * *
Oh, had I but learned that lesson of being thankful in all things earlier, how different would my life have been.
The years when I was angry and resentful with Roy for not helping with housework or childcare as much as I wanted him to. The years I was so worried about how little I was able to write that the very worry and anxiety slowed me down further, and caused adrenal fatigue. All could have been different!!
But even for that, be thankful, Anita, because one teaches best, and shares best, the lessons learned in a hard and bitter school. For then, you know for sure, that they are true.
                                                      * * *
So these are some of the epiphanies which have changed my life, and are changing it:
* Learning to be rejoice always, to be thankful in all things.
* Learning not to worry about anything at all, but instead to turn my worries into prayers.
* Learning to trust God, whatever.
* Learning to pray
* Learning to see this world as a love-gift from God, drenched in his grace, mercy and creativity!!