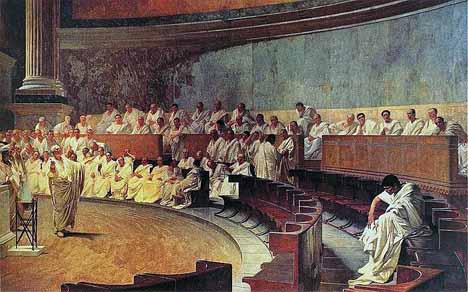 Ancient Roman Senate



I am following the Arab protests from Morocco, Algeria, Tunisia, Libya, Egypt, Syria, Jordan, Iran, Bahrain. Reading of Gaddafi firing on unarmed protesters.

http://www.guardian.co.uk/world/interactive/2011/feb/11/guardian-twitter-arab-protests-interactive



Many of the protesters want democracy. Though some can become "more equal than others," in Orwell's famous phrase, in democracies (or indeed in any human system where some will be born smarter, stronger, more gifted than than the others, or be born to the those who are cleverer, richer than the rest)  democracy may well be the least flawed political system there is.


                                                                         * * *


We are in Rome for the week with 4 laptops and a pile of books. We are here to see Michaelangelo, Raphael, art, architecture, and rest–a la a family of driven intellectuals. And I am on my wireless laptop, while Roy gets take-away kebabs.


I am reading about Roman democracy–the second democracy in the world, I believe (after the Greeks). 


In 509 B.C., the people of Rome rose up against the last tyrannical Etruscan monarch, Tarquin whose son raped a Roman noblewoman Lucretia, who then committed suicide. Her husband, along with Brutus led an uprising that led to the establishment of a Roman republic.


The republic was to last nearly 500 years, and was a surprisingly modern and democratic form of government. The Senate, representing the patrician families, elected two Senators from their numbers, while the people elected two tribunes, and were allowed to veto the election of senators they disapproved of. 


The city prospered.
                                                                            * * * 


When you read of Mohammed Bouazizi, the dutiful, beleagured, harassed young fruit seller, whose self-immolated triggered the current wave of Arab protests, you so want things to improve in the Arab world, perhaps through democracies led by visionary leaders


or–I am a passionate Christian, after all–


through the hope-filled joyous Gospel of Jesus Christ. 
                                                                                      * * *


John Wesley on the connections between Christianity and the wealth of nations.

Wherever true Christianity spreads, it must cause diligence and frugality, which, in the natural course of things, must beget riches!
And riches naturally beget pride, love of the world, and every temper that is destructive of Christianity. Now, if there be no way to prevent this, Christianity is inconsistent with itself and, of consequence, cannot stand, cannot continue long among any people; since, wherever it generally prevails, it saps its own foundation.
John Wesley preached this sermon in Dublin in 1789. 
Christianity does improve the living conditions of nations–though, in a typical Hegelian dialectic, wealth does threaten true Christianity.
Click button to share on Facebook, Twitter, Digg, Delicious, Reddit … Wikio