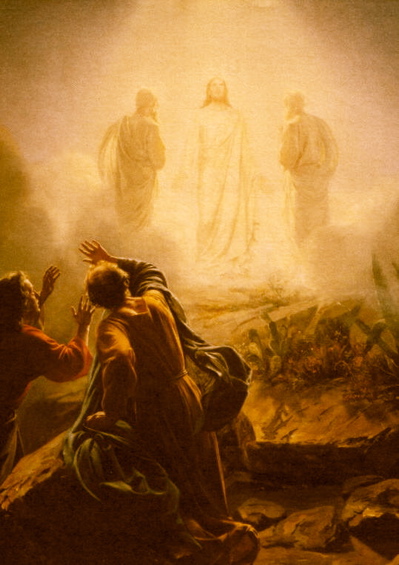 Carl Bloch, Tranfiguration
Matthew 16
Jesus Predicts His Death
21
From that time on Jesus began to explain to his disciples that he must go to Jerusalem and suffer many things at the hands of the elders, the chief priests and the teachers of the law, and that he must be killed and on the third day be raised to life.
22 Peter took him aside and began to rebuke him. "Never, Lord!" he said. "This shall never happen to you!"
NIV notes, The beginning of a new phase in Jesus ministry. Instead of teaching the crowd in parables, he now concentrates on preparing the disciples for his coming suffering and death.
23 Jesus turned and said to Peter, "Get behind me, Satan! You are a stumbling block to me; you do not have in mind the concerns of God, but merely human concerns."
Lol! What is amusing is that, just in the previous paragraph, Peter had been told that the Father had revealed the truth of Jesus' identity to him, and that he was the rock on which Jesus would build his church.
Now, he is rebuked as Satan, a stumbling block, who did not have in mind the concerns of God, but human concerns.
And that is what we humans are. At one moment, we are filled with revelation and insight, and realize we are blessed. The next moment we are impetuous and presumptuous, and have in mind human concerns, not the concerns of God, and are very like Satan in the things we prize.
ESV notes–In the context of the Jewish master-disciple relationship, it would have been audacious for a disciple to correct his master, let alone rebuke him. Peter, like most of his fellow Jews, resisted the idea that the Messiah must suffer, even though it is found in the OT, Psalms, Isaiah, Zechariah.
Satan, a loan word from Hebrew, meaning adversary or accuser.
24
Then Jesus said to his disciples,
"Whoever wants to be my disciple must deny themselves and take up their cross and follow me.
For me, the hardest sentence in Scripture.
Saying No to self, shouldering the instrument of the death of the insistent demanding rowdy self and its desires is the only way to follow Christ.
The cross you carry is that of your own death, of doing exactly what you feel like (in terms of, let's say, eating, control of temper, use of free time, use of money…)
This verse is one I need to be reminded of every day.
And that is why it is good to read and study Scripture. Because, left to ourselves, we forget.
ESV notes–Satan attempts to hinder Jesus mission through Peter who does not understand that Jesus' messianic role must include suffering and death.
25
For whoever wants to save their life
will lose it, but whoever loses their life for me will find it.
Those who want to ensure the pleasantness of their lives in every detail, in fact, lose the pleasantness of it.
Those who lose their rights to the gratification of every desire for the sake of following the teachings of Jesus, in fact, find life.
ESV notes–Verses 25-27 each beginning with For (Greek Gar) provide three related reasons why a disciple must let go of his earthly life, and take up his cross.
26 For what good will it be for someone to gain the whole world, yet forfeit their soul? Or what can anyone give in exchange for their soul?
27 For the Son of Man is going to come in his Father's glory with his angels, and then he will reward each person according to what they have done.
We will be rewarded or ACCORDING TO WHAT WE HAVE DONE. Or so this verse says. And so, it profits us nothing to gain everything for a finite time, and then lose our souls for eternity.
28 "Truly I tell you, some who are standing here will not taste death before they see the Son of Man coming in his kingdom."
Matthew 17
The Transfiguration
1
After six days Jesus took with him Peter, James and John the brother of James, and led them up a high mountain by themselves.
2
There he was transfigured before them. His face shone like the sun, and his clothes became as white as the light.
This is the vision I would love to see. Jesus transfigured before me. His face shining like the sun. His clothes as white as the light.
Jesus, both our friend, the lamb of God, and the radiant one, whose face shines like the son, clothed in light.
His transfiguration was a reminder of the glory he had before he became man, and a preview of his future exaltation.
3
Just then there appeared before them Moses and Elijah, talking with Jesus.
4 Peter said to Jesus, "Lord, it is good for us to be here. If you wish, I will put up three shelters—one for you, one for Moses and one for Elijah."
I love this–Peter is somebody who first talks, then thinks. Impulsive, impetuous, him with his foot in his mouth. His first reaction to the revelation of the glory of Christ is to say something, do something. And so, he reassures Christ that it is good that he is there to take charge at this critical juncture. And then offers to build shelters for these spiritual beings.
ESV notes–Moses and Elijah represent the law and the prophets, which witness to Jesus as the Messaih, the one which fulfills the Old Testament.
5 While he was still speaking, a bright cloud covered them, and a voice from the cloud said, "This is my Son, whom I love; with him I am well pleased. Listen to him!"
The words which change everything. When we hear the father say, This is my daughter, whom I love. With her, I am well pleased.
And why does he say these words over us? Because we belong to Christ. We are grafted into Christ. We are in Christ, molecules in his bloodstream.
ESV notes–The bright cloud is reminscent of the cloud of God's presence and glory in the OT, Exodus, and 1 Kings 8, 10-13
God the Father's public endorsement of Jesus, his beloved son, echoes that given at Jesus' baptism.
6
When the disciples heard this, they fell facedown to the ground,
terrified
.
7
But Jesus came and touched them.
"Get up,"
he said.
"Don't be afraid."
8
When they looked up, they saw no one except Jesus.
Terrified with a sense of awe at the presence and majesty of God.
And these are the great words which Jesus always speaks to us. Get up, don't be afraid.
9
As they were coming down the mountain, Jesus instructed them,
"Don't tell anyone what you have seen, until the Son of Man has been raised from the dead."
The Messianic secret. There is in Jesus, a continual waiting for the right time, the kairos time–the appointed moment in the purposes of God–rather than the chronos time, time as we know it.
10 The disciples asked him, "Why then do the teachers of the law say that Elijah must come first?"
They understand spiritual things literally, not metaphorically, a continual risk when dealing with the things of God.
11
Jesus replied,
"To be sure, Elijah comes and will restore all things.
12 But I tell you, Elijah has already come, and they did not recognize him, but have done to him everything they wished. In the same way the Son of Man is going to suffer at their hands."
13
Then the disciples understood that he was talking to them about John the Baptist.
ESV–Understanding is a key theme of Matthew's Gospel.
Click button to share on Facebook, Twitter, Digg, Delicious, Reddit …
Wikio