Here are the books.
Kate Atkinson – Case Histories
Margaret Atwood – The Blind Assassin
Alan Bennett – A Life Like Other People's
John le Carré – The Spy Who Came in From the Cold
Lee Child – Killing Floor
Carol Ann Duffy – The World's Wife
Mark Haddon – The Curious Incident of the Dog in the Night-Time
Seamus Heaney – Selected Poems
Marian Keyes – Rachel's Holiday
Mohsin Hamid – The Reluctant Fundamentalist
Ben Macintyre – Agent Zigzag
Gabriel García Márquez – Love in the Time of Cholera
Yann Martel – Life of Pi
Alexander Masters – Stuart: A Life Backwards
Rohinton Mistry – A Fine Balance
David Mitchell – Cloud Atlas
Toni Morrison – Beloved
Chimamanda Ngozi Adichie – Half of a Yellow Sun
David Nicholls – One Day
Philip Pullman – Northern Lights
Erich Maria Remarque – All Quiet on the Western Front
CJ Sansom – Dissolution
Nigel Slater – Toast
Muriel Spark – The Prime of Miss Jean Brodie
Sarah Waters – Fingersmith
Gosh, I've just read the 5 in bold. Lots of reading to do, Anita. And here's the skinny on it.
World Book Night to give away 1m free books
Readers in the UK and Ireland can choose books to give away to people they think will enjoy them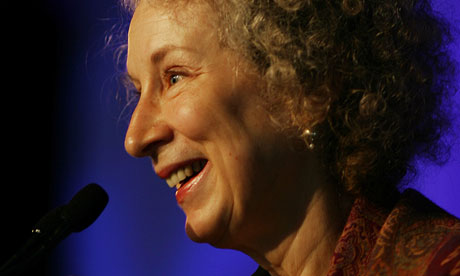 Night follows day with the launch of
World Book Night
, as publishers look to inspire adults to read by giving away 1m free books. Inspired by the success of World Book Day, which last year saw schoolchildren cash in tokens for more than 600,000 specially-published titles, this new initiative aims to put "an accessible work of enduring quality" in the hands of adult readers in the UK and Ireland on the evening of 5 March 2011.
Participating authors Margaret Atwood and John le Carré welcomed World Book Night with great enthusiasm, with Atwood saying she was "amazed by its magnitude" and Le Carré calling it "beyond his most ambitious dreams".
Key to the event is the concept of enthusiastic readers giving away their favourite book to people they think might love it too. Anyone can apply to be one of the 20,000 givers, choosing the title they most want to give away from a list selected by a panel including
booksellers
, authors and librarians, including novels by Sarah Waters and David Mitchell,
poetry
from Carol Ann Duffy, and memoirs from Alan Bennett and Nigel Slater. The 20,000 chosen to give will be able to donate 48 copies of their much-loved book.
An eclectic roster of high-profile patrons have stepped forward to back the event, including writers JK Rowling, Dave Eggers and Seamus Heaney, musicians Damon Albarn and David Gilmour, actors Colin Firth and Tilda Swinton, cookery queen Nigella Lawson and sculptor Anthony Gormley. BBC creative director Alan Yentob is also a supporter, and the event will be covered on BBC2. Stephen Fry, Lemn Sissay, DBC Pierre, Kamila Shamsie and Bidisha are also on the editorial committee, chaired by broadcaster James Naughtie.
Atwood, whose novel The Blind Assassin is among those on offer for donation, said that when she first heard of the event she was "amazed not only by its magnitude but by its simplicity. The love of writing, the love of reading – these are huge gifts. To be able to give someone else a book you treasure widens the gift circle."
Le Carré, whose The Spy Who Came in from the Cold is another book that will be given away on World Book Night, said: "No writer can ask more than this: that his book should be handed in thousands to people who might otherwise never get to read it, and who will in turn hand it to thousands more. That his book should also pass from one generation to another as a story to challenge and excite each reader in his time -that is beyond his most ambitious dreams."
Artist Antony Gormley, who is a patron of the event, also offered a cheer, saying: "Hooray for World Book Night, a truly wonderful celebration of reading, writing, and sharing! When the joy of giving and receiving is added to the fruit of the imagination, something big, lovely and generous can happen: for a book allows us to hold the experience of another in our hands and absorb it in our minds."
Jamie Byng, chief of publisher Canongate and the chairman of World Book Night, predicted that the event would have "an enormously positive impact on books and reading" because of the sheer power of personal recommendation. "Having 1m books given to one million different people on one night in this way is both unprecedented and hugely exciting," he said.
While the vast majority of the books will be given away by individual members of the public, 40,000 will be distributed by WBN itself to people who might not otherwise be able to participate.
Organisers hope to extend the promotion to meet the global reach of its title in future, but for the moment it is limited to the UK and Ireland
Bookmark this on Delicious