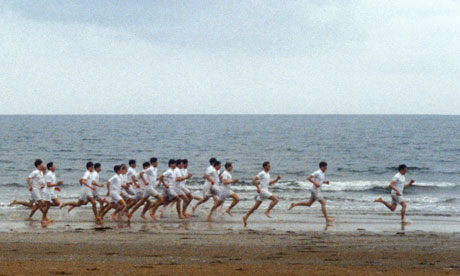 When I had a David Lloyd, Oxford, membership, I used to be surprised by how happy everyone seemed. Smiley, happy, positive and ebullient.
Most or all of the staff were probably not Christians, so there was no spiritual explanation at work. I had to look for natural explanations for why they seemed more happy and upbeat than the average person.
Undoubtedly, it was partly because of good management. Bad and mean management hurts business because employees become disgruntled.
However, the number of exercise classes the staff led each day, and the endorphins pumping through their bodies no doubt made them feel better physically, which made them feel better emotionally. And, if they were spiritual, the glowing health, and the well-stretched muscles, would have made it easier for them to experience God.
* * *
 I used to hate PE and games at school. I am now surprised at how good I feel after vigorous exercise, like a run. How euphoric even, how tolerant of human annoyingness, how clear-headed, how able to work for long hours. So resistant to annoyance and disappointment.
It's like an inoculation of the mind and emotions, making me able to work longer and harder, to withstand reverses, to handle rudeness or shortness with equanimity.
Exercise makes us better people. It may not change the heart, make a stingy person generous, a malicious or malevolent person benevolent. But its short-term effects improve our personalities. If persisted with, it would change our characters (not least of all, in developing discipline). We become sunnier. Happier. Easier to live with. We sleep better. Think better, more clearly and rationally. We work better and for longer.
It injects sunshine into the personality. We are much less irritable and snappish; our mood is better; we feel better about ourselves. We feel more energetic, positive, optimistic, calm, forbearing, tolerant. In other words, we feel more like Christians.
In fact, perhaps exercise makes it easier for us to take up our cross and follow Jesus. I do believe it.
I have been struggling to develop the habit of daily exercise for 22 months (during which I have lost 24 pounds!!), and it's still not as much of a habit as writing is, say. But I do exercise at least a little most days, and am miserable and cranky when I do not.
I am convinced of its benefits, and enjoy it once I have hit my stride, and so I will persist, until it is as much of a habit as writing is.