I love Scandinavian summers, the evenings of late, late light, wading in or sitting around the lakes, with their characteristic red cottages on shore.
   Tuomiokirkko, Helsinki, the Lutheran church, a mass of domes
 Seurasaari island. The beauty of an island, of course, is the plenitude of beaches. The sunlight shining on the water late in the evening was little short of magical
We canoed down the gulf of Finland, loved the art nouveau cottages and log cabins, letting in the light. Would love to rent one of them sometime. I love the way that time is suspended and goes dormant when you are in a canoe on the water.
Zoe and Irene are in this canoe. They capsized into the Baltic Sea later that day, but swam to shore.
The Finns speak English with near-native fluency. The accents often sound American, until by the second or third sentence you hear tell-tale Scandinavian vowels.
They shop in perfect silence. We stand out not only by our colour, of skin and clothes, but by the fact that we, horrors, talk to each other in the grocery store.
I love Scandinavia in summer, and have visited Norway in 2009, Sweden in 2011, and Denmark in 2012. The Finns are warmest of the Scandinavians–but it definitely has a Scandinavian feel–a clean, decent, well-ordered, well-mannered, considerate society. When the Scandinavians die and go to heaven, or the Swiss for the matter, they will be surprised to see an improvement on their societies!
Visited Uppenski Cathedral, the Russian Orthodox Cathedral of Finland, which was ruled by the Russians for too long.
Iconostasis in the Russian Cathedral, Uppenski, which as our daughter Irene who is doing Religious Studies for her GCSE told us is a whole wall of icons.
And here are Zoe and Irene before the iconostasis.
  Then shopping in the outdoor market, where we had a fast good lunch– delicious fried salmon and battered calamari.
We walked around Helsinki, photographing some of the Art Nouveau (Judgendstil) buildings,  the airy, curved forms taking on a Germanic/Scandinavian heaviness.
Nordic Giants, and decorative clock outside the Train Station
The train station was particularly fascinating, as was the Opera House and the National Art Gallery (Ateneum).  
Finnish National Theatre
Ateneum, National Art Gallery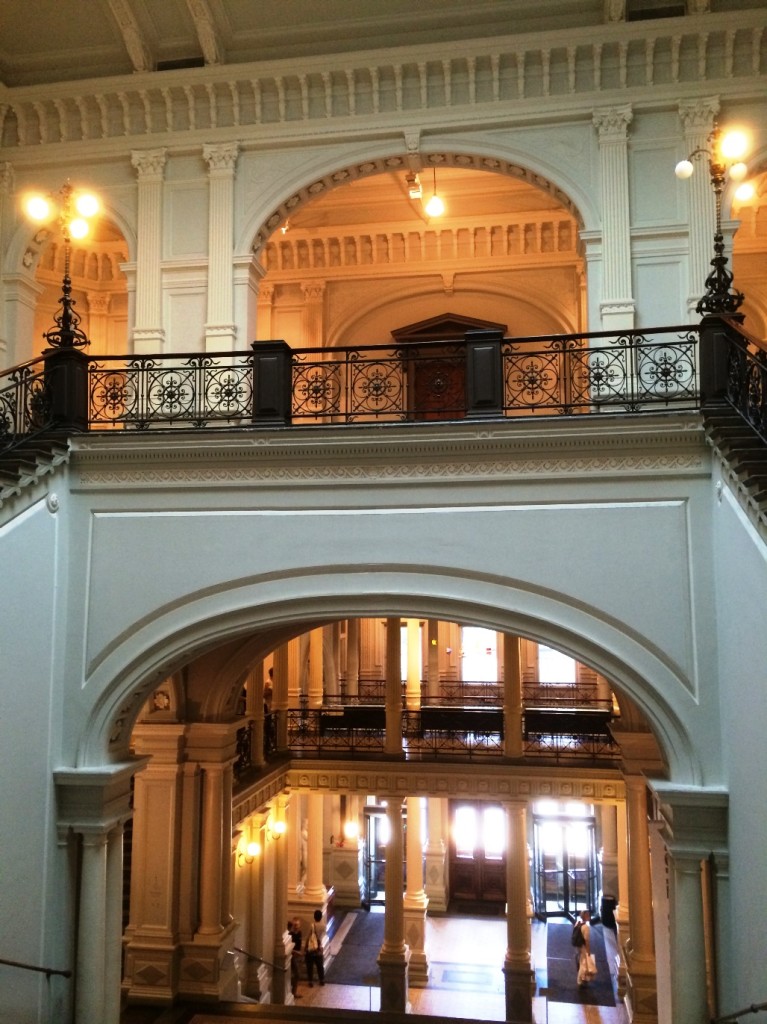 Interior of the Ateneum
There was an exhibition of the paintings of Tove Jannson, author of the Moomins at the Ateneum. The daughter of a Finn and a Swedish woman (the prototype of MoominMamma), Jansson was a free spirit. She trained as an artist in Stockholm and Paris, and continued drawing and painting and writing for seven decades.
It was fascinating to watch her art change, from the political (anti-fascist) in the Forties, through the abstract in the fifties, to the more fantastical and beautiful.  And, of course, she illustrated the Moomins herself…which helps us know what a Moomin looks like. Like a hippopotamus, apparently!
A long, interesting life of ever-evolving hard work. Tove Jannson was gay and it is not clear if being free of the stultifying role of good-frau-dom liberated her creativity. Or if she had the guts to live as a lesbian for decades because she was a free spirit anyway!
Sibelius Park. A monument in his honour– 24 tons of steel tubes arranged like a large, silver Surrealist organ.  Sibelius's giant, dismembered head!
Rock Church, literally hewn out of granite–Scandinavian assiduity and ingenuity
Loved tiny, magical Philajasaari Island, full of rocks on which to sunbathe, tiny islands connected by bridges, covered with wildflowers, inviting beaches at every turn, views to feed the soul!
I loved Helsinki Zoo, on a beautiful 22 acre island. I adore animals, and could watch them for hours. Time feels suspended as I watch them.
We saw the otters at feeding time
The snow leopards had cubs, as did the lions. There were large numbers of kangaroos.
Kallio Kirke, an Art Nouveau Evangelical Lutheran Church
Then to Jarvenpaa, the countryside outside Helsinki, a beautiful drive through fields full of wild flowers, to Ainola, the house of Sibelius (the most famous Finn, well, after the Moomins!) He bought Ainola when he was 38 and lived in for 53 years!! Life is long. 

Surrounded by rural peace and the lake, his creativity blossomed–well, until a long, paralysing two decades of perfectionism and composer's block–when he composed symphonies, and then trashed them. The price, sometimes, of fame achieved too early.
Sibelius' house pictured below.
Sibelius's house had typically Finnish interiors
Finland was an eccentric choice, perhaps, but our family thrives when we  alternate hard work with a complete change–and Scandinavia is so beautiful in the summer, and there is a thrill in exploring a new country and a new culture. I am so glad we went!