I like wandering around the deserted gardens which sometimes surround palaces and stately homes.
I wandered through the Baroque Villa Palagonia in Bagheria Sicily yesterday, whose grounds host massive grotesque gnomes, giants, gargoyles, mutants, and anthropomorphized monsters.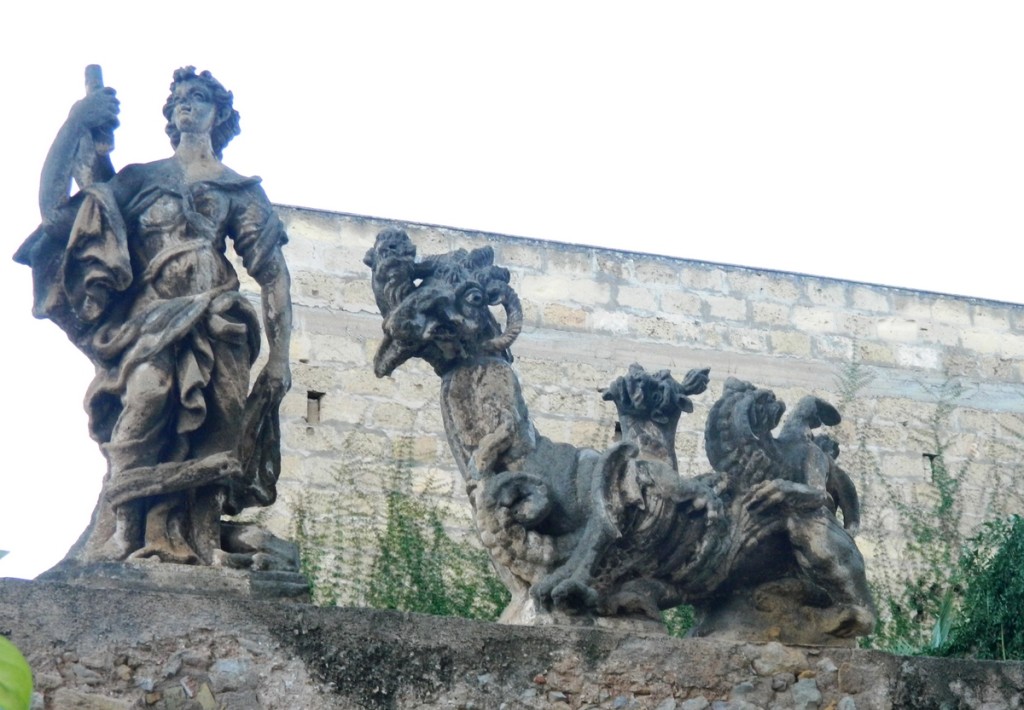 The villa was the home of Ferdinand, Prince of Palagonia, a hunchback, who took revenge on his wife's lovers by cruelly satirizing them—often depicting them as hunchbacks!!
* * *
 Oh full of passion and pride and ambition, they built these palaces and gardens, how intensely they lived, and now their gardens are just the habitation of stray cats, and the birds which sing sweetly and loud.
All dead. Him who hated and satirized; him who was hated…
Hating. What a waste of a life!
Walking through the garden, I felt eager to align myself with what matters, for one day through our empty gardens too, stray cats might stroll, and birds sing loud and sweetly, unmindful of all our pride, passion and ambition.
People, despite their wealth, do not endure;
they are like the beasts that perish.
Their forms will decay in the grave,
far from their princely mansions.
16 Do not be overawed when others grow rich,
when the splendour of their houses increases;
17 for they will take nothing with them when they die,
their splendour will not descend with them.
18 Though while they live they count themselves blessed—
and people praise you when you prosper—
19 they will join those who have gone before them,
who will never again see the light of life. Psalm 49
I thought too of Shelley's "Ozymandias."
I met a traveller from an antique land
Who said: "Two vast and trunkless legs of stone
Stand in the desert. Near them on the sand,
Half sunk, a shattered visage lies, whose frown
And wrinkled lip and sneer of cold command
Tell that its sculptor well those passions read
Which yet survive, stamped on these lifeless things,
The hand that mocked them and the heart that fed.
And on the pedestal these words appear:
`My name is Ozymandias, King of Kings:
Look on my works, ye mighty, and despair!'
Nothing beside remains. Round the decay
Of that colossal wreck, boundless and bare,
The lone and level sands stretch far away". 
I am building things. I have built a small business which now solely supports our family. I am building a book. I am building a blog. I am building a platform on Twitter and Facebook so people read my blog. I am building a family life, and friendships, and a network of warm relationships here in Oxford, and with other writers elsewhere.
* * *
But…
If the Lord does not build the house,
In vain do the builders labour.
In vain is your earlier rising
Your going later to bed. (Psalm 127)
I want to know what the Lord intends me to build with my life, and I want, oh how desperately I want, to build with Christ, to be aligned with his flow of ideas as I build, so what I build, whether books or a family business or blog may last longer and be more life-giving than the deserted books and palaces and gardens which litter our globe.