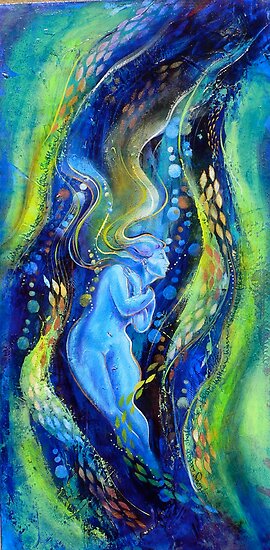 Painting by Fitzy
Rachel Held Evans and John Piper are Ninja bloggers. Pretty much every post is well and carefully written, and appears to have gone through multiple drafts.
I sometimes wonder if I should blog that way–producing the best writing I am capable of in every post, even if I have far fewer of them.
                                   * * * 
I produced carefully written, much revised and rewritten work for years. And also developed writers' block–was so self-critical that writing became anxiety, self-doubt and work rather than play for me. It lost its joy.
For me to try to blog that way would be the sure way to stress and writer's block. 
So, I have made peace with being good-enough rather than consistently excellent in my writing on this blog (as in all other areas of my life).
One of the most empowering writing teachers I had, Charlie Sugnet at the University of Minnesota, would give us really low-bar, low risk of failure assignments. I did the best writing of my life that term. (See

 

this 

 or 

this

 published in 

my first book, Wandering Between Two Worlds

).
Setting a low bar—being willing to open myself to the possibility of small failures on a daily basis–that is the only way I can see myself maintaining this enterprise of sharing my innermost thoughts with the world on an almost-daily basis without burning out.
What I am far more interested in could be called, I suppose, stream-of-Spirit blogging.
To hear what the Spirit is saying to me. To record it.
When I don't know what to write about, which is often, I either look at my drafts folder for the overflow of those creative days when I have ideas for five posts, or I ask, "What is the spirit saying to me? What worry, joy, emotion, idea, insight or epiphany is uppermost in my thoughts?" And then I play with it. And as I do, the germ of the idea frequently develops into a fully-fledged 800 word blog post.
My blog will consist of other posts, of course, but this will be one way for me to maintain my own interest in it. To try to hear what the Spirit is saying to me, and to record it. (God's ideas are limitless, and by tapping into them, we too find limitless ideas for blog posts.)
"A man's reach must exceed his grasp, or what's a heaven for?" Robert Browning wrote.
So I guess my perhaps far-fetched ultimate ideal for the blog is that I may overhear what the Spirit is saying to me, and saying to the Church, and record it. Can a blogger or a blog have a sort of prophetic ministry? Who knows? Perhaps!
                                          
(edited archive post)