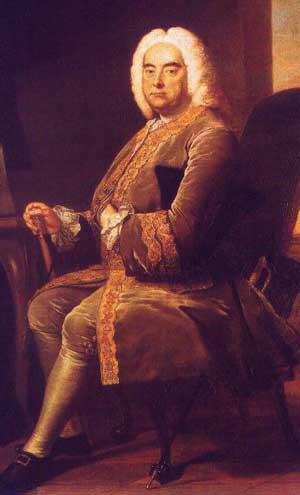 My father had trained and worked as a Chartered Accountant in England in the forties and early fifties. When he returned to India, he brought with him some precious possessions—among them LPs of Beethoven, Mozart….and Handel's Messiah, conducted by Malcolm Sargent.
He used to sit, rapt, listening to Mozart's Fortieth Symphony or Beethoven's Fifth. I enjoy classical music if I can do something physical while listening to it, something like housework. The Messiah, however, is different.
It has always transported me into a state of bliss. It is surely among the most beautiful pieces of art ever produced.
* * *
I decided to research its composition.
The years immediately preceding the composition and premiere of Messiah were artistically and financially disastrous for George Frederic Handel. In 1737 he suffered a stroke but eventually recovered enough so that his playing was unaffected.
However, the grandiose style of Italian opera for which Handel was best known was dwindling in popularity, so much so that after 1741 he stopped composing opera altogether. Meanwhile, he witnessed the bankruptcy and failure of two of his own opera companies in the 1730s.
Handel was a shrewd and practical composer; he saw the public's waning interest in the musical form that had been his bread and butter for many years and started composing in a format he hoped the public would prefer, the oratorio.
He had written eight oratorios before the Messiah. Then Charles Jennens, a wealthy merchant gave Handel the libretto for a new oratorio that he fashioned from passages taken from the Old and New Testament dealing with Christ's life on Earth and his sacrifice of his own life.
Jennens' text caught Handel's imagination, so he began working on it at a feverish pace, finishing it in twenty-four days. During that time, he never left his house and barely came out of his room. A servant who brought him his meals said, "He was praying, or he was weeping, or he was staring into eternity."
Just after writing the "Hallelujah Chorus," Handel said, "I did think I did see all Heaven before me and the great God Himself."
The Hallelujah Chorus surely provides among the purest five minutes of pleasure that art can provide. See it burst upon tired shoppers in a random act of beauty and generosity.
http://www.youtube.com/watch?v=SXh7JR9oKVE
Sources