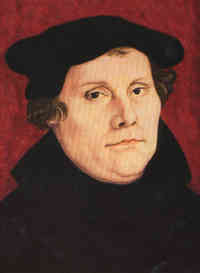 "You have as much laughter as you have faith."
"The dog is the most faithful of animals and would be much esteemed were it not so common. Our Lord God has made His greatest gifts the commonest."
"Be thou comforted, little dog, Thou too in Resurrection shall have a little golden tail"
"If you want to change the world, pick up your pen and write."
"Whenever the devil harasses you, seek the company of men or drink more, or joke and talk nonsense, or do some other merry thing. Sometimes we must drink more, sport, recreate ourselves, and even sin a little to spite the devil, so that we leave him no place for troubling our consciences with trifles. We are conquered if we try too conscientiously not to sin at all. So when the devil says to you: do not drink, answer him: I will drink, and right freely, just because you tell me not to."
"A unjust law, is no law at all."
 "I know not the way God leads me, but well do I know my Guide."
Be a sinner and sin boldly, but believe and rejoice in Christ even more boldly."
Spare the rod and spoil the child – that is true. But, beside the rod, keep an apple to give him when he has done well." Martin Luther
Even if I knew that tomorrow the world would go to pieces, I would still plant my apple tree.
I have held many things in my hands, and I have lost them all, but whatever I have placed in God's hands, that I still possess.
God writes the Gospel, not in the Bible alone, but also on tree, and in the flowers, and clouds, and stars.
 Work, work, from morning until late at night. In fact, I have so much to do that I shall have to spend the first three hours in prayer. – Martin Luther