The Isle of Man is a perfect cross between the glories of Ireland and England. We loved it.
We crossed on the Ben my Chree, which has a dog lounge.  Merry loved it.
Here is the Cashtel yn Ard stone circle, facing the ocean. The burial place of Neolithic chieftans in 1800BC  (about 400 years before the Book of Genesis was written)
Fabulous at sunset.
Merry at the entrance of a Neolithic burial chamber
The enclosures act, and the forced eviction of crofters in the Isle of Man as in the Scottish Highlands has led to many abandoned stone cottages all over the island
We camped out by Glen Willyn on a deserted spot of the Atlantic, Loved sleeping breakers crashing on the shore. Merry adored the beach.
Long walk up Glen Helen.
The islanders were so friendly and helpful. When we asked directions, a cheery helpful elderly gentleman invited us into his house to show us on his map…and then chased after us for we left our guidebook there. Roy said he was like Tolkein's Tom Bombadil, totally at ease in his landscape.
Wandered around St. Patrick's Isle, centre of Manx Christianity in the 6th century, surviving the pagan Viking Invaders at the end of the eight century.
Enjoyed the miniature alpine gardens on the rocks.
Sunset at St. Patrick's Isle
The famous four horned Manx sheep
A Celtic cross in honour of the dead in the first world war
The Fourteenth century chapel of St. Trinian's
Truly magical Calf Sound, where calves were taken, wading through the water to be pastured, and then swum back at low tide for milking
There were magical sunsets.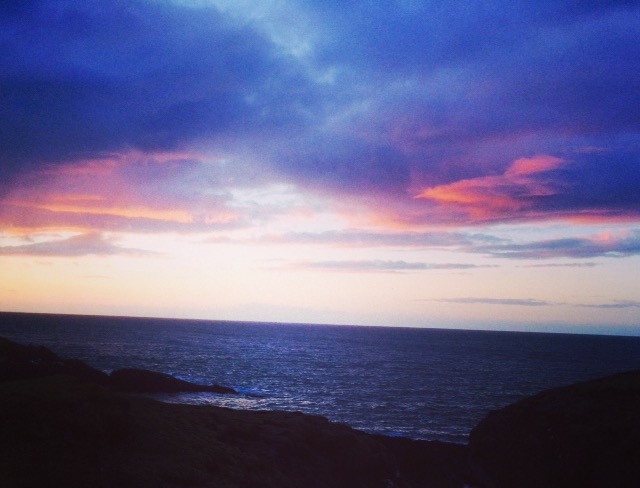 The three-legged runner, emblem of the Isle of Man
Tweetable
Images from a magical week at the Isle of Man–NEW post from @anitamathias1