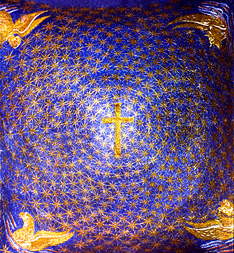 A mosaic in Ravenna, made of millions of broken tessarae of glass and enamel
The principle runs through all life from top to bottom.
Give up yourself, and you will find your real self.
 Lose your life and you will save it. 
Submit to death, death of your ambitions and favourite wishes every day: submit with every fibre of your being, and you will find eternal life.
Keep back nothing. Nothing that you have not given away will be really yours. 
Nothing in you that has not died will ever be raised from the dead. (C.S. Lewis, Mere Christianity).
* * *
 "Christianity can only be caught, not taught," they say. I caught a lot while I was discipled from 1997 to 2002 by a spiritually deep Christian writer and leader.
He said that as he found himself becoming intense–a sign that self was on the throne, not Christ–he'd say, "Take that too. I surrender that to you, Jesus," and so on, until it became a habit to surrender everything precious to him, everything he worried about, to Jesus.
We swapped my editing of his first book for spiritual guidance. He was a naturally gifted writer, and I think I helped him find his natural speaking voice and rhythms in writing. He thanked me in the acknowledgements for teaching him how to write!
Interestingly, he said that he did not own his writing. He had given it to God. And whereas I wasted a lot of time on false starts, he wrote to just three publishers, one of whom took his first book. Several reviewers have said his next book was one of the best books on prayer of all time, and that's because it sprung from the heart, spirit and experience, not from study, reading or thinking.
What impressed me was that someone who did not seem naturally gifted as a writer could so rapidly write two good books. Was not "owning" his writing a factor? He said he wrote as God provided time, whereas I was then always trying to grab, steal, wrangle and fight for time, which caused me a lot of stress.
Interestingly, he said once that he owned the Christian organisation he founded far more than his writing. And that, 16 years on, has never really taken off, perhaps for this reason.
* * *
I was thinking this morning of the similarity to things in my own life. Things which I do not own, which I have turned over to God, and do reliant on his strength are blessed—things like our family business, my blog or even little things like my Twitter presence where after two years I chosen as a runner-up for the Tweeter of the Year by the Christian New Media awards in 2014, (and was a Finalist for Blogger of the Year in 2015).
The things which I do by worry and self-effort are not so blessed. My attempt to finish my memoir, say.
I am reading a book by Duncan Smith called Consumed by Love. It is about our oneness with Christ, how we are safe in Christ–as an astronaut in his spacesuit is safe from being bumped in a zero gravity spaceship–and how Christ is in us.
And in that lies the power to overcome long-standing battles: Christ in us, the hope of glory. Relying on the guidance and power of Christ, step by step.
Kim Walker Smith of Jesus Culture puts it well:
Where you go I go
What you say I say
What you pray I pray.
Jesus only did, what he saw you do.
He would only say what he heard you speak.
He would only move when he felt you lead.
Following your heart following your spirit.
How could I expect to walk without you
When every move that Jesus made was in surrender?
Two verses are speaking to me: "You will not have to fight this battle. Stand firm and see the deliverance the Lord will give you." 2 Chron. 20:17.  And, "The Lord will fight for you. You need only to be still" Exodus 14:14.
So that's where I am spiritually at present. A disciple, a learner. Turning over these areas of my weakness to him, relying on him for strength and guidance. Letting Christ in me, my hope of glory, act in me, guide me, change my tastes, my habits, my mind and spirit.
Mere Christianity by C. S. Lewis on Amazon.com and on Amazon.co.uk