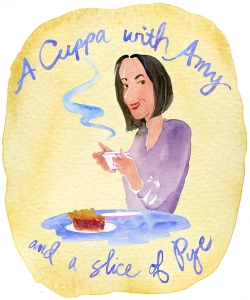 Thank you to Anita for inviting me on the Monday blog tour. Pleasure to be dreaming beneath the spires with you, even if from a sunny garden in North London!
So the game is to share what we're working on, why we write, and how the process works.
What I am working on
I'm writing and writing but still chasing after that first elusive book. Having worked as an editor in the Christian publishing field for yonks, I find I have to chain up my inner editor when I'm writing, and nowhere more so than with a book-length manuscript. My inner editor voice sees what I'm creating and chimes in with some not-so-helpful comments, "Are you sure you want to write that? You're a first-time author. What about your platform, or lack thereof? Blah-de-blah-de-blah-de-blah."
My journey to book publication has been rocky. A highlight was Easter 2013, when I was thrilled to secure a most fabulous literary agent to represent me, Steve Laube. He shopped around my idea of a memoir called Beloved of God, which traced my journey of awakening to God's love and accepting my identity as his child. Result? Rejection. Ouch.
And so I'm back to the drawing board. I feel a bit stuck, to be honest, for that nasty inner editor can be so vocal, especially when my first attempt did not meet with success. But now that I've just finished with a busy season of speaking engagements, I'm going to clamp down and develop the book idea that keeps popping up, wanting to take a life of its own.
Why do I write what I do?
I've always loved words and writing. When I was 11, I was first published in the Minneapolis paper in the kids' page, which I found thrilling. But when some schoolmates mocked me for scoring 104/100 on the poetry project, I started to lose confidence. Working for a great writer in my early 20s further eroded my willingness to put words on the page, as I thought about what I would write and found myself wanting (to be fair on my younger self, that author/thinker and I have very different styles!)
It was only after my world fell in, seemingly, when Zondervan axed my acquisitions (UK: commissioning) editor position that I started to develop my writing voice. I began writing regularly for publication (feature articles, columns, reviews, devotionals), enjoying the buzz of seeing the finished product and the interacting with readers.
One of my most favorite activities is writing devotionals – Bible reading notes. I learn so much by delving into the biblical text and commentaries, chewing it over with prayer and offering it up. I've written for New Daylight, Day by Day with God, Inspiring Women Every Day, Closer to God and Living Light. You can read some of my devotional series on my blog.
I've also always loved books, and so another joy is to run the Woman Alive Book Club. Every month I choose a book or two to review as well as interviewing Christian authors. We also publish 5 reader reviews. Our Facebook group is a wonderful place for discussion of books and authors; it's a real community of grace. (Because I'm always in need of books to review for this monthly feature, publishers regularly send me their books to consider. Free books = result!)
How does my work differ from others in its genre?
The more I write, the more I celebrate the author's individual voice. Made in the image of God, we all reflect his glory, truth, creativity and love in unique ways. That voice being expressed by words on a page (or a screen) to me is beautiful. The more sure I am about who am I am, rooted in him, the more eager I am to write and share and create.
And yes, I'm aware I didn't really answer the question…
How does my writing process work?
Once I've taken the kids to school, I settle down in my hopefully sunny study. After some time reading the Bible and praying, and yep, catching up on social media, I get down to my task. If it's a blog post or a short article, I take the hint of the idea that I want to flesh out and get down to writing. (I wrote about this creative process recently in a blog.) If I'm writing Bible reading notes, I delight in reading around the passage in commentaries and spending some time in prayer, asking God what he'd like me to share.
My busy family life means I can't often go away for a period of uninterrupted writing, but those occasions when I've hidden myself away for a few days or even a week are blissful hard work. After getting my work space organized just so, I research and write and drink sparkling water and write and look out the window and drink more sparking water and write. Ah for one of those weeks…
I've found that any good writing comes after rewriting. And rewriting. And rewriting. Of course, we also have to learn how to stop the editing process too – and finally to finish off a piece before we destroy it – but going back over one's work with a fresh eye, tweaking here and cutting there, gives stronger results.
To continue the blog tour, I nominate two fabulous Cathys: Cathy LeFeurve and Cathy Madavan. After all, my middle name is Catherine…