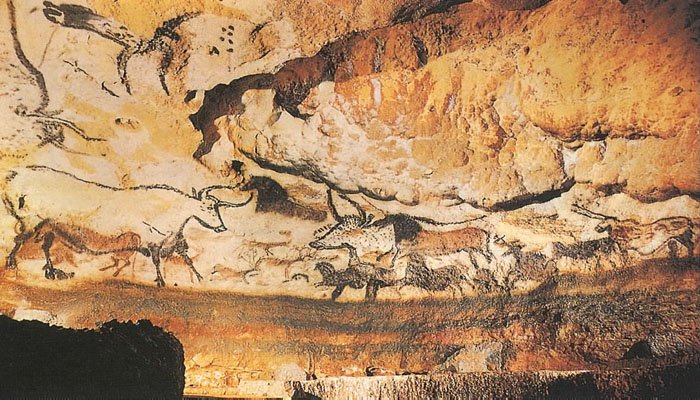 When I was growing up in India, letters with a foreign stamp were exciting, a window into exotic worlds. And every week, a thick envelope from Canada arrived, from my mother's penfriend, Barbara Redlich, to whom she had written for decades, but never met.
Barbara was Austrian, and in a letter I've kept, wrote, randomly, about growing up in Austria after the Second World War. Everything was rationed; everything was scarce, even food. And, oddly, exercise books.
So schoolgirls wrote small on the line in blue ink, then coming to the end of the page, turned the book upside down, and wrote in black ink on what was left of the line.
A random little detail, but how it fascinated us.
* * *
We followed Barbara's exciting life, week by week. She never married, but lived with another woman. Lesbians, I now surmise, but such a thought would never have crossed my mind then, or my mother's, though my urbane father would have realised it.
 She and her friend/partner travelled the world, sending us photographs of the Victoria Falls in South Africa, and SA's amazing botanical gardens. Immigration to Canada opened up the world to her.
* * *
I was bored of India. I begged my father to emigrate as so many of our friends and relatives were doing, but he had already emigrated to England, where he lived from 1944 to 1952,
He qualified as a Chartered Accountant, and then worked for Tubbs Clarke and Co., Chartered Accountants.
While he liked his boss who was fair-minded (and hired him after all!) he realized that he would always be held back by the petty racism of the English.  When an audit was requested, he heard his boss pre-emptively explain, "One of our accountants is an Indian.  Do you mind?"  Some did not.  Some did.  "It's always best to ask," his boss said, apologetically.
My father's epiphany: "Why be a second class citizen in someone else's country when you can be a first class citizen in your own?" He was now Controller of Accounts of India's largest company, Tata Steel. We had a luxurious life. No way was he leaving to start again from scratch.
Any emigration to be done had to be done by us. My sister emigrated to the US in her early twenties and stayed there. I came to England, to read English at Oxford, moved to America, stayed there for 17 years, then moved back here 9 years ago, and am now a dual US/UK citizen.
* * *
Why am I telling you this? The same instinct that made Barbara Redlich and my mother write to each other weekly for decades, though they had never met each other. The instinct to record, share and preserve our lives, a human instinct since the cave painters of Lascaux.
Few people today have the time or energy to record their week in long, beautifully written letters which help them see the beautiful, the noteworthy, and the art in their own lives.
But facebooking stems from the same instinct, as does blogging. In post after post, we record our thoughts and lives and read other people's.
Will you be my penfriend?