Okay, last on Rome for a while. Roy has been writing up our trip before it blurs into the mists of memory.
Santa Maria Maggiore is one of the twenty "Santa Maria" churches listed in our guide to Rome, and one of the five great basilicas of Rome.  The first time I saw the church it was summer and it was so crowded that the only part I could see easily was the wonderful ceiling: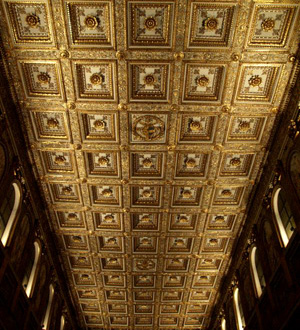 and here's a detail
Here is a statue of Pope Pius IX praying in front of a reliquary supposedly containing fragments of Christ's crib.   Notice the wonderful coloured marble on the walls.
 The Pantheon was originally a Roman temple completed by Hadrian almost 1900 years ago, and looks solid enough to stand another 1900 years. 
Anywhere else in the world such an ancient monument would be a major attraction, but here the square it is on is a convient parking lot, with a statue of a friendly elephant