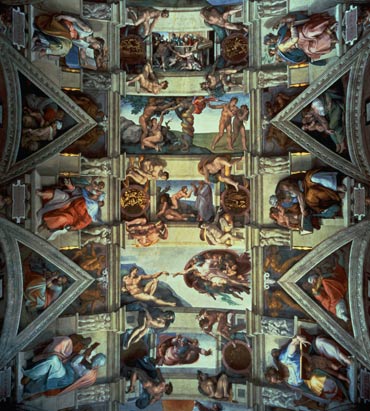 We spent today with the art which we came to Rome to see. I have been to the Sistine Chapel before in 1986, but the frescoes have been cleaned in the last few years, and the whole thing was a whole lot less crowded and more tourist friendly. What a gargantuan museum! The guidebook warned that one gets footsore just getting to the Sistine Chapel through what feels like many museum miles–and that, unfortunately, was true.


The Sistine Chapel, 300 figures illustrating the pre-history and history of salvation, was painted over 54 years, single-handedly by Michaelangelo, lying on his back.


It was an instance of an artist being forced to produce by a patron.Pope Julius II believed Michelangelo could do anything and ordered him to decorate the ceiling of the chapel. "But I'm not a painter," Michelangelo protested, "I'm a sculptor.  I've hardly done anything with a brush and you want me to paint 2000 square feet on a curved ceiling!" 


"You'll do a great job," said Julius. "I'll have my architect Bramante set up the scaffolding for you."  1  

 'He will paint it or he will hang!' he is recorded to have muttered.
Pope Julius II, who was desperate to see it done, only lived for a few months after its conclusion. He is supposed to have constantly asked Michaelangelo during the 54 months  that he laboured on it,  'When you will make an end of it?' and the answer was invariably the same: 'When I'm finished!'  Finally, he ordered Michaelangelo to remove the scaffold and show the half-finished painting to his guests–who, predictably, were as overwhelmed as we are today.



And here is Michaelangelo's caricature of himself painting the Sistine chapel ceiling
Michaelangelo, never one to do things by half-measures, came up with a grand design of 300 figures representing the pre-history of Salvation. 



What a glorious soaring conception!


God creates the world in a titanic burst of energy




Extends power to a quiescent Adam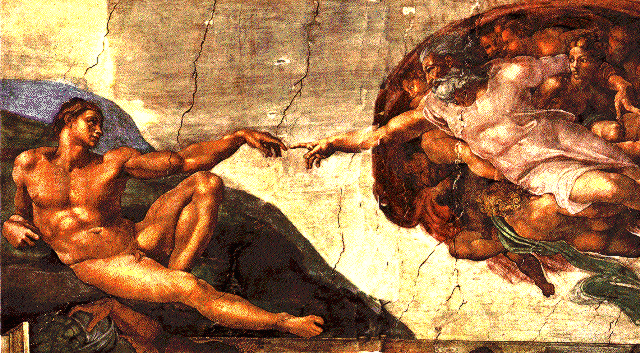 The temptation of Eve is surprisingly modern






And the most amazing of all is Michaelangelo's conception of the Lamb become a Lion, Christ at the Last Judgment, in radiant power.


Christ is the flesh was powerful, a man's man. He could walk miles in a day,  get a crowd of 15,000 to move, carry his cross after a scourging which killed weaker men. He was a manual worker, after all. Michaelangelo has captured this aspect of Christ.










And here is the whole of it.


 








Michaelangelo's last recorded words, to his apprentice were, " Work, Antonio, work, and do not waste time."


Michaelangelo's love was sculpture, and the project into which he had poured his heart, the tomb of  Julius II, was left unfinished because of the commissions and machinations of various popes.


See short post on Michaelangelo's Moses http://theoxfordchristian.blogspot.com/2011/02/when-in-rome-michaelangelos-moses-and.html 
                                                                          * * *


My kids were not thrilled with me, because as I left, I said, "Work, Zoe, work, and do not waste time. Work, Irene, work, and do not waste time."


And to myself, I said, predictably, "Work, Anita, work, and do not waste time."
                                                                      * * *


When I last visited Rome, in 1986, I loved the poet Keats, and probably knew everything he had written "by heart." 


Keats was terrified that he might die before he had written down all the books that were in his mind.
I have fears that I may cease to be
Before my pen has glean'd my teeming brain,
Before high-piled books, in charactery
Hold like rich garners the full ripen'd grain, 


he wrote, presciently.


And he was right. He did die very young, and asked for this epitaph, "Here lies one whose name was writ in water." I visited his grave on my last Roman pilgrimage.




                                                                         * * * 


And what does one do with these fears that one may never write all the books which are in one's head?


Surrender yourself to God again. Your life is in your hands. Everything you might ever do or have or make is only by his grace. 


Ask him for grace and time to write the books you really want to write. 


Pray, 


"My life is in your hands,
My love for you will grow, my God
Your light in me will shine."


From a hymn I used to love when I was 17. Carey Landry.


 




 










Click button to share on Facebook, Twitter, Digg, Delicious, Reddit … Wikio